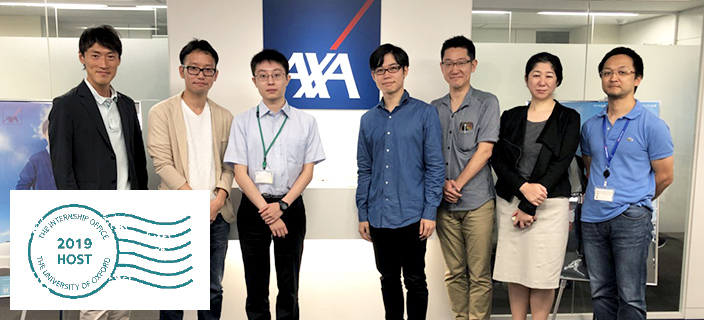 Oxford University Summer Internship
In the summer of 2019, AXA Direct enhanced the data analysis-specific internship program that it had been running in previous years and accepted graduate students from the University of Oxford. It was a valuable opportunity for the students to apply their academic learning at one of the world's leading universities to business.
A practical program with the engagement of top management
The internship program focused on data science and actuarial science was organized by the Data Strategy Department in 2014 and has since been offered to college students majoring in science and technology. In an effort to enhance this program, AXA Direct began to partner with Dr. Warren A. Stanislaus,* the president of the Oxford Alumni Club of Japan, in 2018. In the summer of 2019, a special program was developed and offered to graduate students from the university.
The program participants worked on website analysis to clarify constantly changing customer needs for the purpose of enhancing both sales and customer experience (CX). In addition, they gained a deeper understanding of the insurance business through basic lecture-type learning sessions on insurance business models, data use cases, marketing and actuarial science. Members of AXA's top management team joined the final presentation session and earnestly engaged in a discussion on the value of data utilization from the management viewpoint.
Comments from internship participants
After the program, interns shared their views on the internship program. "The internship was a valuable experience," said one, "as we were able to learn how the knowledge on data analysis and machine learning we acquired at college is applied in an actual business setting." The program was concluded with great success.
* About Dr. Warren:Rare Rising Stars 2019 (pdf)