Internship Outcome Presentation at an Event Held Jointly with a Tech Company
Accelerate innovation with the theme of open innovation x diversity x playfulness
Background
To encourage innovation and discover brilliant talent, the Data Innovation Department and the Human Resources Department jointly began to organize internship programs for science and technology students in 2014. Since then, students from many different universities have participated in the program. The program has a track record of producing analysis results that contributed to tens of millions of yen in profit in a matter of weeks, and has thus drawn attention from external organizations, such as the Institute of Actuaries of Japan and Keio University, to the extent that we receive requests for lectures.
New mechanism to accelerate innovation
In 2017, this mechanism was reinforced. Under the theme of "Innovate at AXA," an open innovation event was held in August. More than 50 participants and guests, representing the AXA Group, academia and industry, gathered in a room rented from a tech company. The diverse participants included officers and general managers of business departments of AXA General Insurance, university professors, leading data scientists, directors of startup companies and innovators at tech companies.
The participants engaged in a heated discussion in order to elicit new ideas that would drive innovation, using AXA Direct as an example of digital companies for the purpose of the discussion. While exploring the possibilities of innovative and inspiring technologies to be applied to businesses, the discussion focused on innovation, technologies and diversity.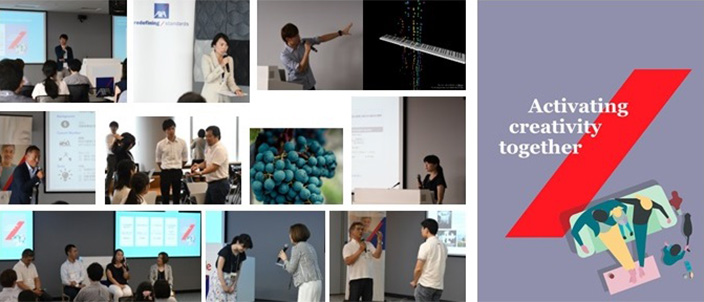 Afterward, interns delivered presentations on AI and deep learning, all of which were interesting and impressive. During the break, the stimulating outcome of an internship project on artificial intelligence that automatically generates original tunes was presented. This was followed by a panel discussion on the theme of "innovation and diversity." The frank opinions offered by the HR division manager, data innovation department head, leading data scientists and the tech company's diversity personnel seemed to inspire the audience. The session proved a positive approach by the top management of AXA Direct toward fostering a culture that encourages a spirit of challenge toward innovation, from the perspective of tech companies and top data scientists.
Lastly, the results of a vote by participants on the best intern presentation were announced. "Simulation on optimal location plans for automotive repair shops" and "A bot using AI technology to analyze call center conversation data for improving operational efficiency" won the Innovation Award and Diversity Award, respectively. The award winners were presented with AXA wine. Afterward, the participants enjoyed networking with one another, and the event was concluded with great success.